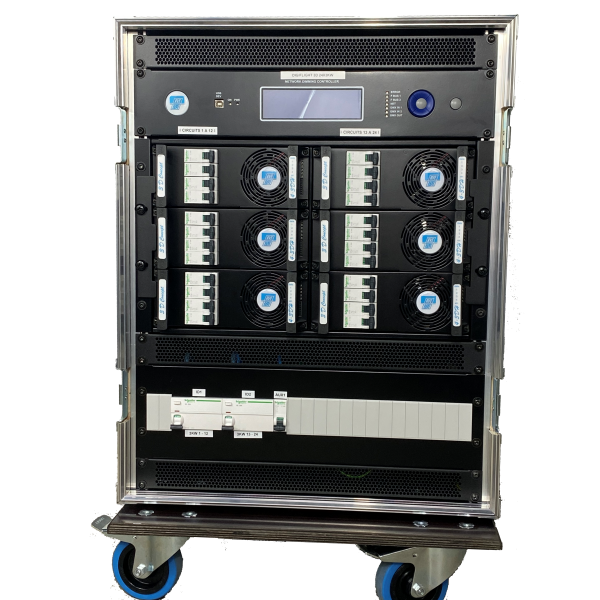 View larger
DIGIFLIGHT 3D CONCEPT
DIMMER FLIGHT
12 x 3 kW
24 x 3 kW
6 x 5 kW
12 x 5 kW
6 x 10kW
6 x12 kW
Warning: Last items in stock!
Availability date:
RVE, pioneer of the plug-in dimmer is different thanks to his technological knowledge to place at your disposal a tool of scenic creation unequalled.
3D concept® DIGIFLIGHT have advanced and unique possibilities, controllable of the end of the fingers by their convivial touch screen.
Our dimmer flight can be adapted to your needs and not the opposite !
• Touch screen
• One module for Dimmers + Mechanical relays (RVE exclusivity)
• The broadest choice of the market: thyristor, triac, transistor, sine wave, mechanical relays
• RDM, Ethernet (ACN, Artnet) ready
• Module instantaneous replacement without repro gramming
• Total mixing of the different module models without restriction
• Diagnosis function
• 1 DMX 512 Input (2 inputs possible as option)
• Connections on double socket-outlets NF, shuko, CEE socket-outlets
• Reinforced flightcase with retractable handles, 2 removable covers and caster base.
The perfect synthesis between reliability, experience and new technologies !
GENERAL SPECIFICATIONS
3D CONCEPT DIGIFLIGHT exploitation with a touch screen (see 3D CONCEPT touch screen user)
Keeping the last level of control received in the event of DMX signal interruption.
MODELS

3198     12 x 3 kW connections on double socket-outlets 2 + T 10/16A NF
3198CE 12 x 3 kW connections on socket-outlets CEE 2 + T 16A
3200     6 x 5 kW connections on socket-outlets CEE 2 + T 32A
3199     24 x 3 kW connections on double socket-outlets 2 + T 10/16A NF
3199CE 24 x 3 kW connections on socket-outlets CEE 2 + T 16A
3201     12 x 5 kW connections on socket-outlets CEE 2 + T 32A
TECHNICAL SPECIFIICATIONS
Supply : TRI +N+T 230/400V, 50/60Hz
Power supply : Male connector CEE 63A on models 3198 or 3200
Male connector CEE 125A on models 3199 or 3201
Protections : Unipolare or Unipolare + Neutral or Bipolare or Unipolare + Neutral +RCCD 30mA MCBs integrated to the module or external. (depending of options and modules requested)
SCR control : 100% digital, opto isolated
Outputs : Socket-outlets or Multi-pin connectors
Control : DMX 512 on XLR 5 (1 in/1 out)
Indicator : Dimming LEDs, default LEDs on the front face of each module
Environment : Temperature 0° to +40°C (23° to 104°F)
Humidity 0 to 90%
Cooling system : Auto regulated disengageable fans, adapted to the modules
Local cue : Individual channel level from 0 to 100% with up time, down time and wait time
Curves : 15 curves per channel (9 user curves)
Local control : For each channel group or individually from the Supervisor menus.
Rising time : 200μs - option: 400μs or 800μs
Display for each channel : Patch number, curve, High and low level limit, test level, cue levels, overriding levels
Recording : 30 cues, DMX capture
Patch : Individual or serial patch
Overriding : Programming of the channel level individually from 0 to 100% (35% value by default), live programming for each effect
CEM compatibility : According to directives EN014/60669/60439
OPTIONS
Shuko / Swiss : Socket-outlets according to Shuko or Swiss standards,
Customization : Specific composition of 3D CONCEPT DIGIFLIGHT,
Control input : Ethernet (Artnet, ACN), RDM, AVAB,
Supervision software : 3D CONCEPT DIGIFLIGHT control remotly.
| | |
| --- | --- |
| Power | Sur mesure |
| Load type | Projecteurs Halogène, Projecteur LED |
| Type | Flight cases |
| Number of channels | Sur mesure |
| Power (W) | Sur mesure |