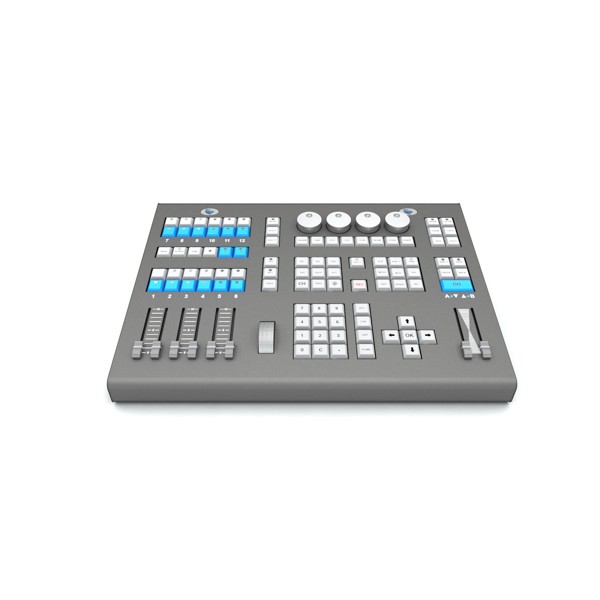 View larger
MASTER WING / FADER WING
Warning: Last items in stock!
Availability date:
DESCRIPTION
Design your shows directly from your PC, in the most easy way with Hydra II and Piccolo II simulator and new Master & Fader Wing.
A safe system, easy and 100% compatible with the Hydra II and Piccolo II family consoles. It provides a quick access to the editor functions,
including simultaneous use of 4 wheel encoders.
In playback, it provides control of the A/B sequence and all system submasters. Master Wing has 12 submasters (6 with faders and 6 automatics)
from witch you can access to the 24/48 that are configured in the system. Fader Wing has 24 submasters.
The connection to the PC is done by USB, and it allows us to take full advantage of the Hydra II and Piccolo II whole simulator. It comes with
the following features:
• 2 DMX-OUT ports, that allow you to use DMX Output from the simulator.
• 2 USB Host ports.
• 1 USB Device port.
• 1 Working light port 12V.
FONCTIONALITIES

• Channels & Fixtures configurable screens.
• 2 Editors: Stage & Blind.
• Fixtures edition supported by palettes (pre-programmed palettes) & Libraries.
• Attributes, Palettes & Libraries are divided in the categories: dimmer, position, color, gobo, beam & X-tra.
• Timing, Fan-out & Flip functions.
• Live.T function to control live fade times.
• Banks to access channels, fixtures, groups, cues, effects, macros, palettes, libraries, pages...
• Palettes from Lee, Rosco, GAM... And universal colour selector (Continuous space colour, RGB, HSV, HTML...).
• Shape for editing dynamic values to any fixture attribute or channels.
• Exam / Modify function to exam or modify contents or status of any console item.
• Access to edit processes and playback with an external mouse.
Menus offers multiple possibilities,as:

• Setup to configure modes and console parameters.
• Help function allow us to access the user manual.
• Several languages for help and information.
• Dimmer diagnostic to test the information of dimmers from the
console (only available on 3D Concept)
• Import and export ASCII light Cue Shows Directly.
• Software uptdates through USB (to download the software,
please refer to www.lt-light.com)
• Piccolo II Software for PC, WOLE (Windows Offline Editor).
• Direct shows compatibility between Piccolo II and Hydra II, and
also through a show converter between the rest of LT Consoles
(Space, Piccolo, Piccolo Scan...).

Patch functions for channels and fixtures :

• Channels: Channels accept response curves and level limit for dimmer.
• Fixtures: Fixtures Patch has an XY control to adjust trackball movement in each fixture, in accordance with fixture location. Fixtures Patch
also has a special external dimmer function, and special adjust for scroller gels.
• Fixtures Cloning: Function that allows changing fixtures (types) maintaining the show.
• Extended library for fixtures, structured by manufacturers and models. (Fixtures library is updated from internet (www.lt-light.com) and can
be edited and modified.

Playback

• Learn Time function learns times for effects & crossfades from manual execution.
• Playbacks modification in Stage & Blind.
• Event list controlled by SMPTE (internal or external) and MTC.
• OSC allows you to create a console control from any iOS or Android device (smartphone, tablet, etc)
• MIDI IN-OUT. Patch MIDI included & editable. MSC

Ethernet 10/100M

• Ethernet to connect several consoles and/or woles. Master/ Slave process definition in Ethernet session.
• DMX Ethernet, with Artnet protocol, and sACN.
• Connections with visualisation software, as Capture, ShowDesigner or Wysiwig. Connections with media servers as Coolux.
• MIDI on Ethernet. OSC (Open Sound Control).
• Remote on ethernet (rBOX).
Optional peripherals devices
(ref : EBOX) Ebox (Ethernet to DMX converter).
| | |
| --- | --- |
| Sales code | Hydra II wing |
| Product code | 3507 |
| Height (mm) | 50/100 |
| Length (mm) | 720 |
| Width (mm) | 400 |
| Weight (kg) | 5 |
| Number of channels | 6 |
| DMX channels | 1024 |